iMAF 2017
International Military Academic Forum 2017 in Chocerady

23 06 2017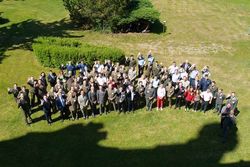 The international Military Academic Forum (iMAF) 2017 was held in Chocerady (Komorni Hradek), Chech Republic.

The event was organised by the five iMAF-partners which are the:
General Tadeusz Kosciuszko Military Academy of the Land Forces, Wroclaw, Poland.
National University of Public Service, Budapest, Hungary.
Nicolas Balcescu Land Forces Academy, Sibiu, Romania.
Theresan Military Academy, Wiener Neustadt, Austria.
University of Defence, Brno, Czech Republic.
The international Military Academy Forum was attended by 90 participants from 22 countries, who represented 29 institutions in total.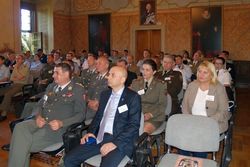 The forum lasted five days and consisted of several presentations, intensive work in international syndicate groups and cultural activities. The presentations of the forum covered the following topics:

• The ESDC as a forerunner on high-quality international training.
• European initiative for the exchange of young officers inspired by Erasmus.
• Defense Education Enhancement Programmer as a tool for NATO partnership cooperation.
• Report on Strategic Partnership Project Implementation (development and testing of international semester) for Military Academy of the Land Forces (MALF) in Poland.
• Internationalization in professional military education: approaches of the MALF.
• The internationalization as a strategic goal of National University of Public Service Hungary.
• Globalization and internationalization of higher education in "Nicolae Balcescu" Land Forces Academy.
• Leadership, Mentoring and Professional Development in the context of higher education internationalization.


The participants of iMAF 2017 included commandants, vice-rectors, deans and vice-deans of military academies, professors, lectors, specialists in the sphere of military education, Erasmus coordinators and students-cadets from universities and academies.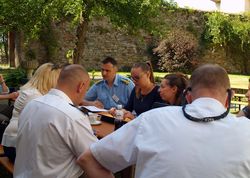 Concerning the syndicate groups, the participants had to identify to different topics: on the one hand the relations between internationalization and quality assurance in professional military education and on the other the opportunities and threats connected with potential implementation of international semester.
The syndicate groups were totally mixed - included officers, officer cadets, Erasmus coordinators and civilians.
The cultural programme were separated in two parts. A guided tour of the Komorni Hradek castle where the forum took place and a visit to the capital of Czech Republic where the participants have the possibility to explore the city with a guide.
On the last day, all the outcomes of the forum and the syndicate work were summarized stating that the overall goal was achieved. A small advertisement for the iMAF 2018 was presented by the Hungarian delegation.
[Inhalt:OCdt SCHMID Matthias,Class Reichsgraf von Abensperg und Traun,Theresan Military Academy / Austria; BAMPENKO Ilona, International and European Studies - University of Macedonia / Greece, Erasmus student at Theresan Military Academy / Austria; Bild(er): 1-3 © Stanislav Poráň]